Regular price
$2,500.00 USD
Regular price
Sale price
$2,500.00 USD
Unit price
per
Sale
Sold out
Share
"Solo Descansar" 2022  Acrylic Paint on Canvas Paper 
Translates to: "To only Rest" 
Acrylic Paint on 12x12 Canvas Paper 
"Solo Descansar" was finished in march of 2022 and is a reflection on taking time off to rest without feeling guilty about it.
In my art I always like to play with items of the home, a couch is one of my favorite subjects to paint as it reminds me that I am welcoming of conversation, as well as hosting people at my home. This is the second time that I include some sort of tea cup in my art. I wanted it to be a tea cup to represent the piece and serenity as well as reflection that moments of quiet and enjoyment of the present bring to me. The little fairy was an ode to my grandmas house growing up. I remember driving hours to visit her in Guadalajara and as soon as we made it to her house running through the living room to go to the bathroom to pee, but always being so intrigued and curious about all of her fairy figurines that she had all over her window sill. I think because the whole painting is a window a lot of it is a reference to the comfort I felt in my grandmas house when we would visit her for the weekend. Right now, rest is something that I struggle with. I feel really guilty when I do it like I always want to put limits on it and set up alarms to wake up or get on with my next task. This painting is to hopefully remind myself that it's okay to take time off my day to rest and just be.
View full details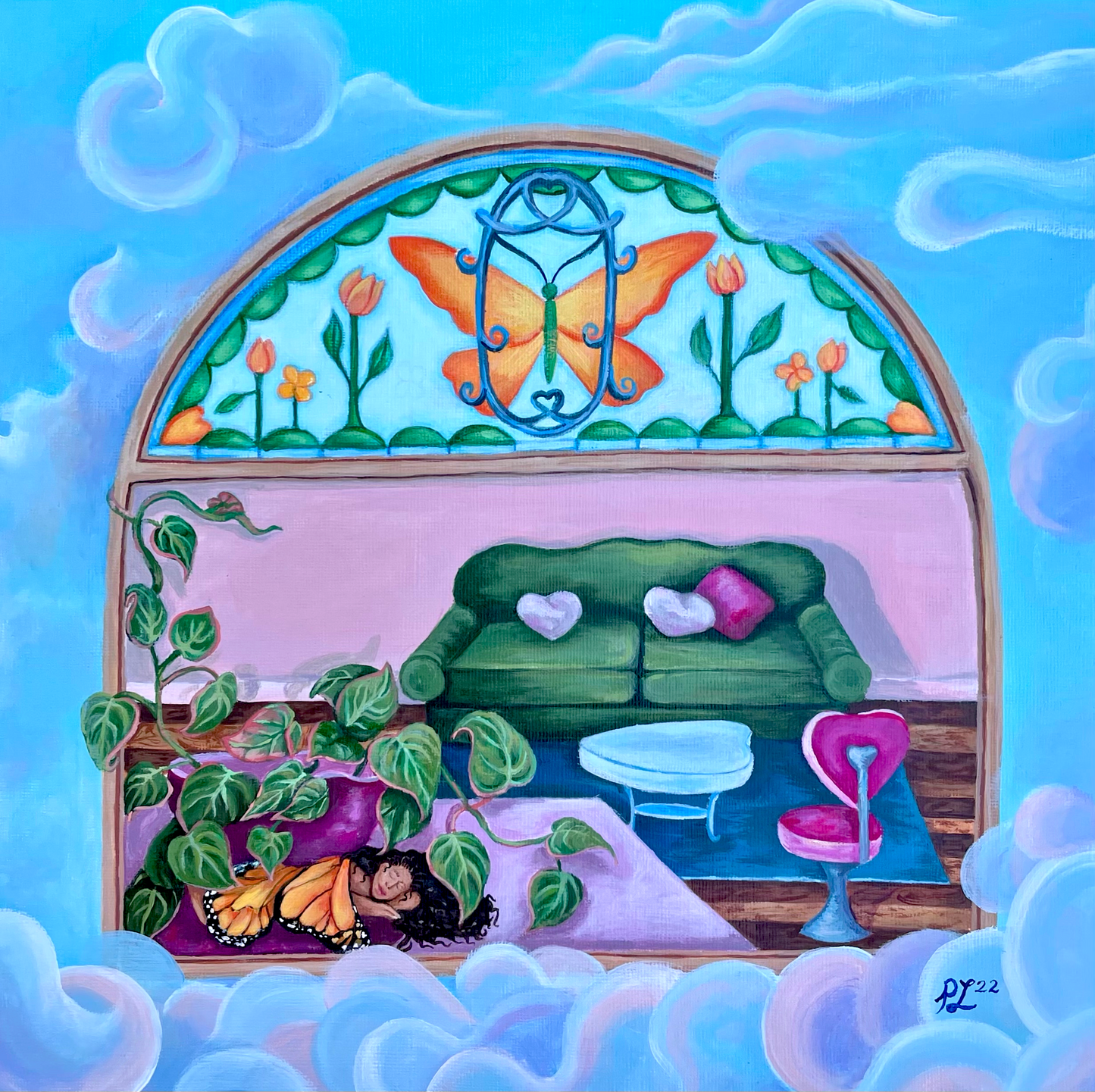 Shipping

Please allow 2-3 weeks for shipping. We care about the environment! we try to ship everything with as little packaging as possible. Thank you so much for your support!

Returns

Please let us know if there was a mistake with your order and were happy to send you a new one. No returns at this time.